Myers continues to say that Paranoid Schizophrenia is primarily "Delusions of persecution or grandeur. The individual may trust no one and may be anxious or angry about supposed tormentors..."

Although the vast majority of my interpretation was spelled out in King's prose, I did derive some ideas from the research, one of them being the idea of schizophrenia being attached to various forms of compulsion. From that, I came up with the idea of the newspaper clippings (which also seemed to go hand-in-hand with the notebooks and envelopes) that covered one wall of the motel room. On that same idea, I came up with the business of the scrub brush at the sink and the rubbing of her feet (cut from the film). This research was also a major factor in the choice of costume - I wanted her to be physically vulnerable as a visual contradiction to her emotional state.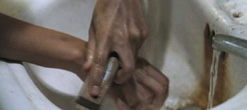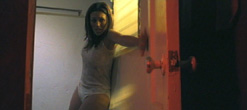 ---
If you're interested in learning a bit more on Paranoid Schizophrenia - no need to get up! Just take a look at some of these links and enjoy - just, ah - make sure no one's looking over your shoulder... watching...
Health Square - "Paranoid Schizophrenia - What you should know"
http://www.healthsquare.com/mc/fgmc2415.htm
Internet Mental Health - "Description of Schizoprenia"
http://www.mentalhealth.com/dis1/p21-ps01.html
PsyWeb "Schizophrenia ( Paranoid Type )"
http://www.psyweb.com/Mdisord/SchizoDis/partype.html
About: The Human Internet - Schizophrenia resources
http://www.mentalhealth.about.com/health/mentalhealth/cs/schizophrenia/